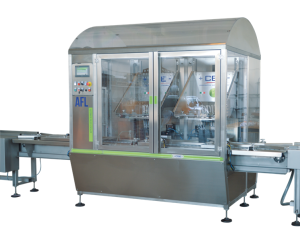 This machine represents the state of the art, combined with experience and new production systems.
The combination of technology, innovative materials, combined designing systems, cutting-edge production techniques and management of components customized, makes this new line "Elite-series" the most sought by customers also because is "maintenance-free".
Our line is innovative and is totally engineered by us, applying our laboratory researches. By joining also an obsessive attention to detail and to aesthetical sense, typical of the best Italian craftsmen as well as full compliance with European safety standards on operator safety, make it a gem to show to those who are looking for a reliable and safe battery: yours. In addition, it is maintenance-free, and having reduced the time for format change, unified components on all machines, productivity increases and cost per product is reduced.
Our lines help you sell your product, simply with a visual impact!
These preparations of the model:
AFL 2F   Filling machine with two heads, first filling
AFL 2FI   Filling machine with two heads, first filling, high speed, ideal for trucks
AFL 2F2L   Leveling filler with two heads singularized
AFL 2FL   Leveling filler with two heads unique
AFL FLCP   Filler leveler one head, level control by D pressure
AFL FLCE   Filler leveler one head, level control D level with probes
– Solid frame entirely in Stainless Steel 316L, cut with laser technology 3Dtube and 'joints guide' to ensure the structural similarities and alignments of the slides
– Elevated frame and sloping base to prevent back injuries
– Operation from right or left upon request
– Conveyor with large surfaces to collect liquid on bottom tray
– Each head is assembled apart individually and then installed (easy to replace)
– Each head easily removable
– Opening doors without central support to allow easy regulations
– No use of aluminum or other alloys
– Slidings without maintenance
– Touch screen for easy set up of battery recipes
– Top cover folded and transparent to let light come in and avoid dust collection
– Top cover folded to collect any gasses and such
– All wires are numbered
– All items are numbered for easy identification
– Fast production, twin operate or single
– Acid disposals in acid resistant materials (for filler)
– Electrical boxes in Stainless Steel ip 65
– European Certification (deposited)
– Technical Certification (deposited)
– Class of safety 1 (top)
– Rear tank levels and valve automatic reinstatement, discharge valve
– Incoming acid with filtering device
– Suction through Venturi speed: up to 6 batteries with leveling
Components:
– Siemens
– Smc
– Metalworks