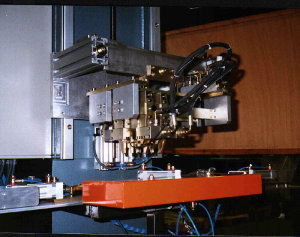 The shear tester verifies the mechanical resistance of the intercells welding without destroying it.
Tooling
Five testing fingers with hydraulic handling, adjusting by following the battery type. Each finger is composed by a couple of jaws.
The testing head comes with jaws onto the two welded connections as the battery is suitably blocked under the testing head.
The jaws slide in the opposite direction by hydraulic cylinders, which execute cuts on the welded surface of the connections.
The welding point is tested by exposing it for a specific time (generally 0,5 sec. to 10 sec.) under strength to point out possible welding defects.
If the pressure (inferior to the total yield stress of the checking section) does not determine the disjunction of one of the 5 cells, the battery is accepted.
Technical data
Power: 380 V, 50 Hz (three-phase)
Machine dimensions: Length 2200 mm
Height 2100 mm
Width 1600 mm
Installed power: 2 kW
Air pressure: 60 Bar
Oil pressure: adjustable from 0 to 40 Bar
Electric panel : CPU SIEMENS