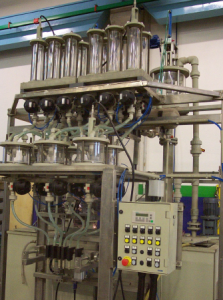 General Characteristics GEL2:
Support structure realised entirely in Aisi INOX 316L.
CE Compliant Safety Guards Remote and Local Control of Station through Industrial plc Interface for line management and SCADA apps.
Technical Information:
Dimensions (L*W*H) :
1800mm*2600mm*2100mm
Electrical : 380V 3ph +PE – 50Hz (others on request)
Station Logic : SIEMENS S7 / Allen
Bradley (others on request)
OP: Siemens OP 3 / Touchscreen TP170B
Electrical Components : SIEMENS /
TELEMECANIQUE
Power Consumption: < 3kW installed
Ship Weight: 750kgs
Pneumatic: 6 Bar
Capacity: 2 batteries per minute
The GEL2 uses communicating vases in order to prepare the correct amount of primary ingredients for the preparation of gel used in Glass mat battery applications. The acid and silica are prepared above in the 6 individual vases for use and then discharged by gravity into the mixing vases. From here the mix is sent into the battery. The volume required per cell is easily adjustable through the Operator panel both in manual and automatic operation. The station may be also be used for 3 cell batteries or other nonstandard types. Recipe management as an option.