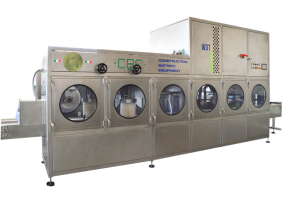 WASHING DRYING TUNNEL WDT 4000
The washing drying tunnel produces 8 batteries per minute. It can process both car and truck batteries, and the regulations are simples and fast. The broad experience gained with the construction of washing tunnels, allows the best performances in washing and drying.
It is so configured:
Stainless steel AISI 316L main frame completed with adjustable moplen supports.
Composed of:
Brushing area, rinsing area, drying area.
It is available on version WASHING DRYING TUNNEL WDT 7000, which is more complete and with big dimensions (photo); this grants a high speed and the highest standards on washing and drying.