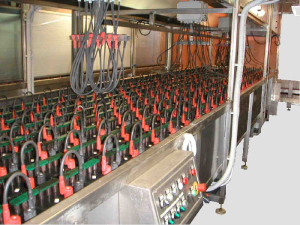 AUTOMATIC WATER TANKS WT X-A
These charging containers are the best way to charge batteries.
These water baths will be in plastic materials or in stainless steel, they are totally automatic either on the introduction of btr inside or on the download to the finishing line, on the opening and closing of the service doors, and on the fill/unfilling of the water.
These water containers are singles self operating units and so they also have inside the water temperature control, the full container mixing and between btr, and the recirculation within the cooling and cleaning system.
The water temperature is -once settled- self-maintained so to reduce charging times. Each container is equipped with fume hoods with sliding windows and safety devices. Stainless steel frame, bath in stainless steel or plastic
Full automation includs:
Battery inlet/outlet doors, (with trolleys), Transport: CLASSIC BELT OR OUR TOP ROLLING NEVER
ENDING SCREW
Mixing and circulation system Bubbling system Temperature control Water level related to height of battery Fume hoods & Openable windows Local control board Electrical box Pneumatic box Water connection Safety ce complying
SEMI-AUTOMATIC WATER TANKS MOD. WT-SAPP
The water tanks can be tailored on thed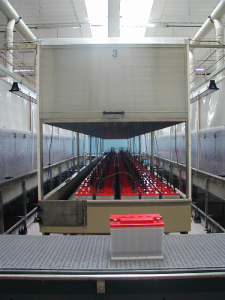 customer needs, relating to the existing chargers, space on the building, quantity of battery to produce, type of battery mix but most important, the quantity of shifts and people have to work on each.
Sometimes the budget of money to spend, is the one that decide the final type and shape of charging container to install.
Also the speed of the finishing line sometime has a relevant influence on the choice.
All the containers need to be connected to a main pipe for the water in and out let, to the scrubbing system that in our case can works also like a cooling tower, an to the rectifiers.
There is no sense to build a standing alone water bath were chilling and fume neutralization are on the same place (called "standing alone" or all "built in")
With this special engineered container, we are now on the highest level of quality/cost so to compete on the market with all the necessary tools.
MANUAL WATER TANKS MOD. WT-MAN
Tanks can be feed in automatic by a conveyor and empted on the opposite side with an other one.
The last possibility is to install a complete manual tank where the operator need to display, connect
and at finishing unconnect and push the formed batteries onto a unloading conveyor.